Interactive Florida Beach Map 
The Florida Beach Map featured below is provided by Florida Nature Guide to assist those individuals seeking unique Florida coastal adventures along the less developed shoreline of the state.  Visitors can view in a larger map, and zoom in on any given area of interest to better view the areas featured here on the "Coastal" section of Florida Nature Guide.  By clicking on the associated map icon, you can read a short overview of the area, or follow the link provided to our page in this coastal section for more information.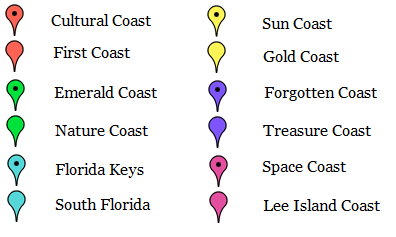 View Florida Beaches in a larger map
The graphic on the right displays the Florida Coast Names associated with map icons and page sections here on Florida Nature Guide.